WHY CHOOSE FLONASE ALLERGY RELIEF?
Most allergy pills don't finish the job because they don't relieve nasal congestion. FLONASE relieves the worst allergy symptoms, including nasal congestion, plus sneezing, itchy, watery eyes, and runny nose.
The #1 doctor-recommended brand in allergy relief

**

Helps block 6 allergic substances, most allergy pills only block 1.

†

Available in 72, 144, or 2x144 sprays per bottles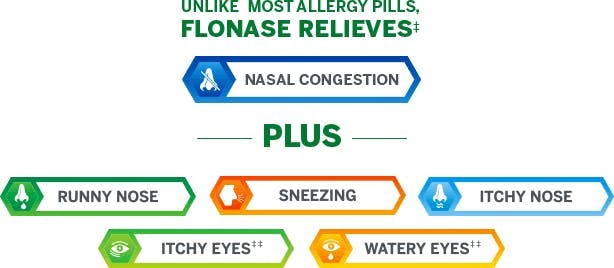 *FLONASE relieves nasal congestion, sneezing, runny nose, itchy nose, itchy eyes and watery eyes
**Among OTC Allergy Medications based on most recent physician's survey dated 6/23/17
†Mechanism vs most over-the-counter (OTC) allergy pills. FLONASE nasal sprays act on multiple inflammatory substances (histamine, cytokine, tryptases, chemokine, and leukotrienes). The exact number and precise mechanism are unknown.
† † Based on IMS Health Monthly TRx Allergy Market for 12-month period ending 4/30/2020.
‡vs single-ingredient antihistamines which do not treat nasal congestion.
‡‡FLONASE is indicated for itchy, watery eyes in adults and children 12 years of age and older.
SEE HOW ONCE-DAILY FLONASE COMPARES TO OTHER ALLERGY MEDICINES
Geta quick overview of the advantages of FLONASE Allergy Relief nasal spray vs. other
over-the-counter allergy medicines to help you choose the right allergy relief for you.
Single-ingredient Claritin
Single-ingredient Allegra
The first Over-the-counter (OTC) nasal spray indicated to relieve nose-and eye-related allergy symptoms
Contains the #1 most prescribed allergy medicine*
Indicated to relieve itchy, watery eyes
Relieves nasal congestion
Applied locally at the source without traveling through the body
*BasedonIMSHealthMonthlyTRxAllergyMarketfor12-monthperiodending4/30/2020.
Zyrtec, Claritin, Allegra, Nasacort, Clarispray, and Rhinocort are trademarks of their respective companies.
Traditionally, antihistamine pills were the go-to allergy medication, but these single-ingredient capsules only target histamine — just one of the inflammatory substances your immune system releases in response to allergens, and which cause your symptoms.1
FLONASE nose sprays counteract six of these inflammatory substances, including histamine, to bring you more wide-ranging allergy relief — even for tough symptoms like nasal congestion.
What's more, FLONASE allergy nasal sprays are applied directly at the source, in your nose. Find out more about nasal sprays vs. capsules.
Get a quick overview of the advantages of FLONASE Allergy Relief nasal spray vs. other over-the-counter allergy medicines to help you choose the best allergy relief for you.
GET THE MOST OUT OF YOUR FLONASE ALLERGY RELIEF NASAL SPRAY
Browse our video library to find out more about how FLONASE Allergy Relief can ease your allergy symptoms and help you navigate allergy season like a pro.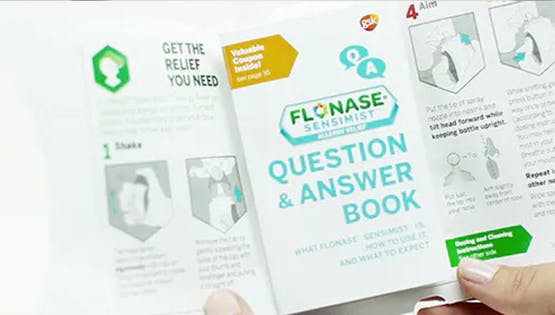 ALL ABOUT ALLERGIES
From living with allergies to knowing how to treat them, FLONASE has the information you need to lead a life not limited by allergies.