Compare Allergy Pills vs. Allergy Nasal Sprays
If you've always taken antihistamine pills to treat your allergies, using an allergy nasal spray may seem intimidating. But once you discover the benefits of using a nasal spray, you'll wonder why you didn't switch sooner.
HOW THEY ARE APPLIED
Not all forms of allergy treatments work the same. Some come in the form of a tablet and are meant to be administered orally, while others come in the form of a nasal spray and are meant to be directly applied at the source—inside the nose.
LEVEL OF RELIEF
Some single-ingredient allergy pills like Claritin®, Zyrtec®, and Benadryl® don't treat nasal congestion—generally acknowledged as one of the most bothersome of allergy symptoms. Allergy nasal sprays, like FLONASE SENSIMIST, treat multiple allergy symptoms, including nasal congestion.*
DROWSINESS
One of the most common side effects of single-ingredient antihistamines like Zyrtec® and Benadryl® is drowsiness.1,2 FLONASE SENSIMIST is non-drowsy.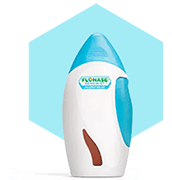 FLONASE SENSIMIST is a great choice if you're a long-time allergy-pill user making the transition to nasal sprays. It's scent free, alcohol free, and virtually drip free. With its patented MistPro Technology, it creates a spray with a gentle mist that you'll barely feel. With FLONASE SENSIMIST, you can treat your worst allergy symptoms once a day without needing an added antihistamine pill.3
Indicated to relieve both nose- and eye-related† allergy symptoms, once-daily FLONASE SENSIMIST is the ideal form of treatment for controlling your allergies, so your allergies don't control you.
*vs single antihistamines that do not treat nasal congestion.
† FLONASE SENSIMIST is indicated for itchy, watery eyes in adults and children 12 years of age and older. See product pages for full information.
Zyrtec® is a registered trademark of McNEIL-PPC, Inc.
Benadryl® is a trademark of Johnson & Johnson Consumer Inc., McNeil Consumer Healthcare Division.
Sources:
1. Zyrtec.com. Zyrtec Tablets. https://www.zyrtec.com/products/zyrtec-tablets. Accessed August 1, 2018.
2. Benadryl.com. Benadryl Allergy ULTRATAB Tablets. https://www.benadryl.com/products/benadryl-allergy-ultratab-tablets#warnings. Accessed August 1, 2018.
3. Kaiser HB, Naclerio RM, Given J, Toler TN, Ellsworth A, Philpot EE. Fluticasone furoate nasal spray: a single treatment option for the symptoms of seasonal allergic rhinitis. J Allergy Clin Immunol. 2007 Jun;119(6):1430-7. https://misuse.ncbi.nlm.nih.gov/error/abuse.shtml. Accessed August 16, 2018.