WHY CHOOSE FLONASE HEADACHE & ALLERGY RELIEF
The first-ever non-spray product from Flonase has been formulated to relieve allergy headaches and the congestion that causes it, plus your worst allergy symptoms, fast*.
The ONLY allergy brand to relieve headache pain + allergy symptoms
Fast-acting* relief for up to 6 hours** when allergy symptoms flare up and disrupt your day
Powerful combination medicine relieves allergy headache pain and the congestion that causes it:

Pain Reliever for headaches (acetaminophen)
Decongestant for sinus congestion & pressure (phenylephrine HCI)
Antihistamine for other allergy symptoms (chlorpheniramine maleate)

Cool flavor coating
Available in 12, 48, or 96 caplets per pack
UNLIKE MOST ALLERGY PILLS†, FLONASE HEADACHE & ALLERGY RELIEVES









* Symptom relief in 30 minutes.
**Dosage is 1 tablet every 4-6 hours.
†Vs single-ingredient antihistamines which do not treat nasal congestion.
SEE HOW FLONASE HEADACHE & ALLERGY RELIEF COMPARES TO OTHER ALLERGY MEDICINES
FLONASE Headache & Allergy Relief
FLONASE Nighttime Allergy Relief
FLONASE Sensimist Allergy Relief
Sneezing, Runny & Itchy Nose
Indicated for Itchy & Watery Eyes
Applied at the source, in the nose without travelling through the body
*Dosage is 1 tablet every 4-6 hours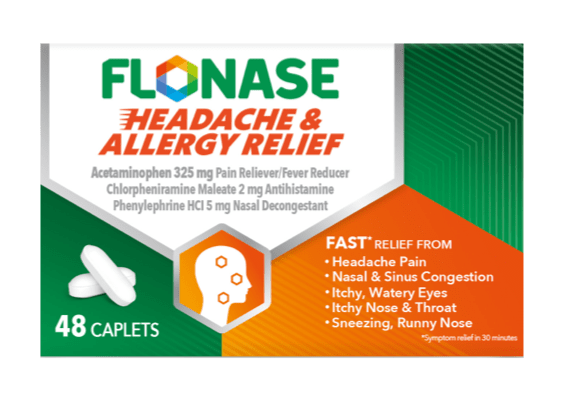 DISCOVER OUR RANGE OF ALLERGY SYMPTOM RELIEF PRODUCTS