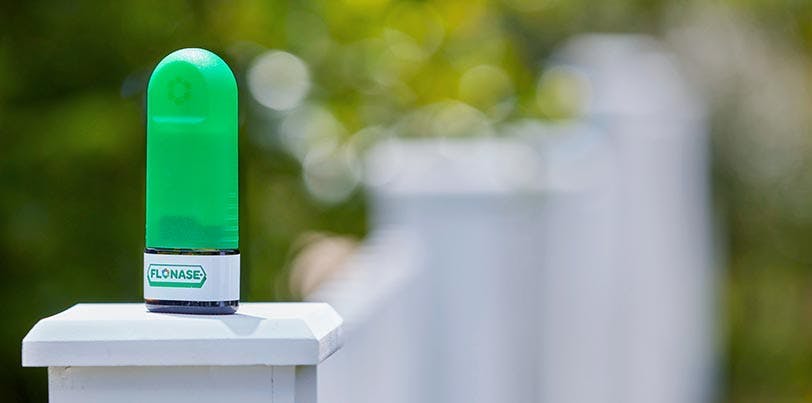 What is Fluticasone Propionate?
Fluticasone belongs to a group of drugs called corticosteroids.1 These are used to help reduce inflammation.2
When used in the form of fluticasone propionate nasal spray, this medication helps block substances involved in the body's response to an allergen, amounting to an overall reduction of inflammation in the nose and consequently reduction of symptoms, such as runny nose, nasal congestion and itchy, watery eyes.3
HOW DOES FLUTICASONE PROPIONATE WORK IN FLONASE?
If you suffer from allergies, when you come into contact with seasonal or year-round allergens such as pollen, pet dander or mold, your immune system kicks in to try to fight off what it sees as dangerous invaders.4
It's the fluticasone propionate in FLONASE Allergy Relief that makes it effective at intervening in what's known as "the allergic cascade" – the sequence of reactions in your body when you are exposed to an allergen. Most allergy pills can only block one of the substances your body produces in reaction to an allergen. In comparison, the fluticasone in FLONASE Allergy Relief helps block six.*
And unlike most allergy pills, FLONASE Allergy Relief relieves one of the most bothersome symptoms, nasal congestion,** as well as sneezing, runny or itchy nose, and itchy, watery eyes. In order to get maximum benefit, FLONASE nasal sprays must be used as directed. The correct dosage varies by product and your age.
In order to get maximum benefit, FLONASE nasal sprays must be used as directed. The correct dosage varies by product and your age.
For FLONASE Allergy Relief Spray:
Adults and children 12 years of age and older: 2 sprays in each nostril once daily for the first week, then 1 or 2 sprays in each nostril once daily as needed for the second week and up to 6 months. After 6 months of daily use, ask your doctor if you can keep using.
Children 4 to 11 years of age: An adult should supervise use. 1 spray in each nostril once daily; children should use for the shortest amount of time necessary to achieve symptom relief (speak to your doctor if your child needs to use the spray for more than 2 months a year).
*Mechanism vs most OTC allergy pills. Flonase acts on multiple inflammatory substances (histamine, prostaglandins, cytokines, tryptases, chemokines, and leukotrienes). The exact number and precise mechanism are unknown.
**vs single-ingredient antihistamines that do not treat nasal congestion.
WHAT ARE THE SIDE EFFECTS OF FLUTICASONE PROPIONATE SPRAYS?
Because fluticasone nasal sprays work chiefly within your nose, very little of the drug travels elsewhere in your body. However, like all medicines, fluticasone can sometimes have side effects.
It is possible to have an allergic reaction to the product, in which case you may experience:
Sudden swelling of the face or tongue
A rash
Wheezing or feeling faint
The development of eye conditions such as cataracts and glaucoma has been reported with use of fluticasone nasal sprays. You should have a yearly eye exam to check for these conditions, but see a professional sooner if you experience any problems with your eyes, such as cloudy or reduced vision.
The most common side effects reported with use of fluticasone nasal sprays include:

Headache
Nausea and vomiting
Sore throat
Nose bleeds
Trouble breathing
Cough
Nose burning or itching
These are not all the possible side effects with fluticasone nasal sprays. Call your doctor for medical advice about side effects. You may report side effects to FDA at 1-800-FDA-1088.
In addition, some children who use fluticasone may have a slower growth rate while using the product. Speak to your child's doctor if you are concerned, or if your child is between 4 and 11 years of age and needs to use fluticasone nasal sprays for longer than 2 months a year.
You can view a complete list of possible side effects and interactions on the individual FLONASE Allergy Relief product pages.