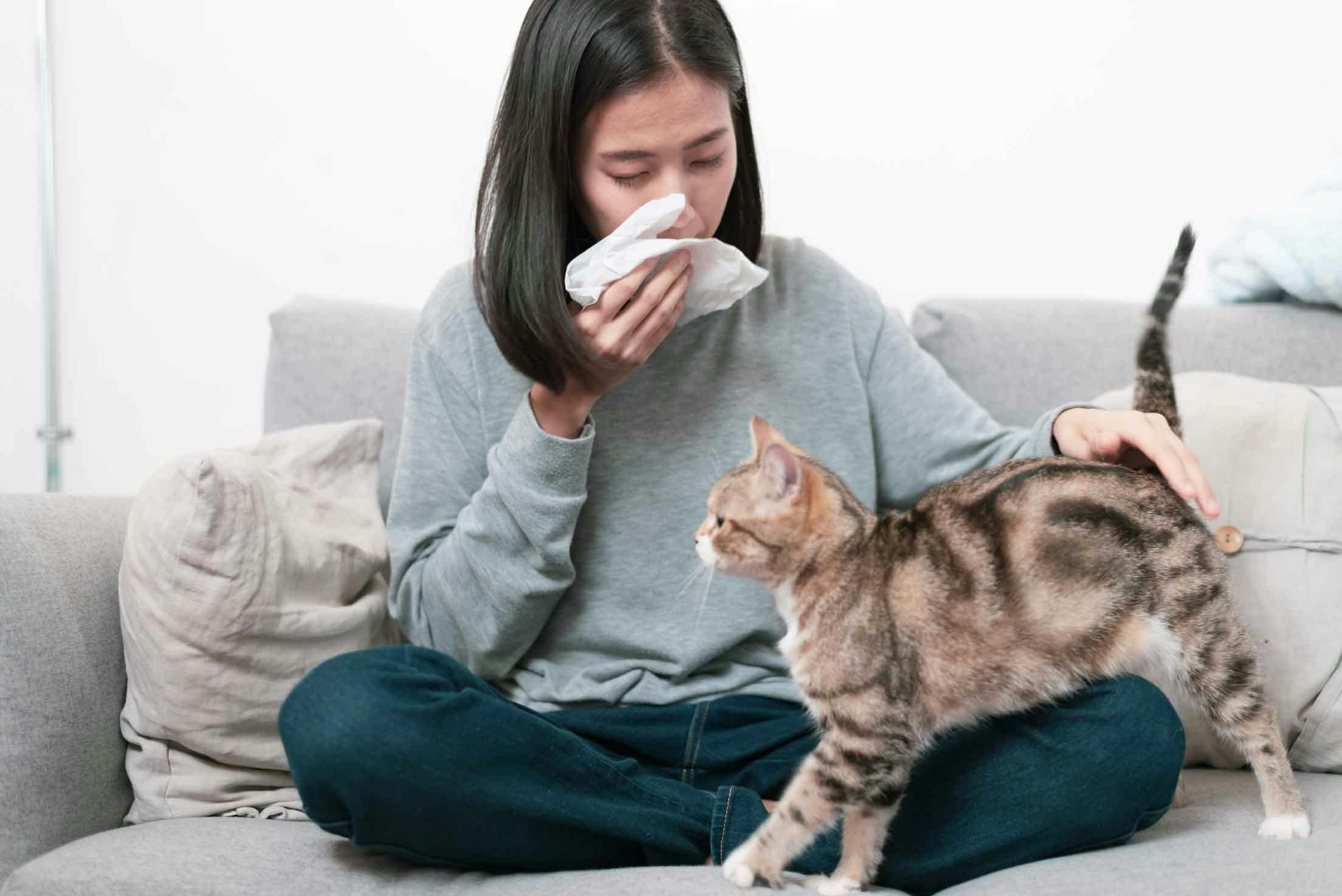 What Are the Signs of Cat Allergies in Adults?
Nearly 70% of households in the United States have a pet of some kind.1 But whether your family is fond of ferrets or keeps a coop of chickens, animal and pet allergies can affect those who already have other allergies or asthma.1 Between 10 and 20% of the world's population is allergic to cats and dogs.1 Learn what causes an allergy to cats as well as helpful signs and symptoms to look for.
What Causes a Cat Allergy?
While it's possible to be allergic to any animal that has fur or feathers, people aren't allergic to an animal's coat or plumage. Instead, the allergy is due to proteins that are found within pet dander, which is another term for dead skin cells, as well as in saliva and urine.1 Due to their airborne nature and sticky properties, cat allergens can be everywhere.2
Cat allergens can be found anywhere within a home, as well as at the workplace and at schools, thanks to allergens catching a ride on people's clothing.1 They can stick to walls, furniture and other surfaces within a home, and can cause symptoms in an allergic person for up to six months after a cat is removed from the premises.1 If a cat is groomed (or grooms itself) indoors, allergens can get into the air and settle anywhere, only to be moved around again during common activities like dusting or moving around the house.1 Because these allergen particles are so pervasive within a home inhabited by a cat, it can be challenging to remove them or manage symptoms of a cat allergy.
Unfortunately, all cats produce allergens, even hairless ones. No studies have indicated that cats can be hypoallergenic, but they have indicated that homes with multiple cats have higher concentrations of allergens.2
Specific characteristics of your cat, like the length of its hair, gender or amount of time spent indoors or outdoors, won't affect the levels of cat allergens.2 If you have a sensitivity to dust and pollen, these allergens may attach themselves to your cat and affect you.2
What Are the Symptoms of Being Allergic to Cats?
If you're allergic to cats, your allergy may express itself in several different ways. You may have very minor symptoms, or you may feel totally incapacitated.1 The severity of your response shouldn't hinge on the type of cat, but on your own sensitivity and whether there are multiple cats in a space.2
Cat allergens can be breathed into your airways and irritate your lungs and can land on the soft tissues that line your eyes and nose.1 If you're very sensitive, cat allergens getting into your lungs can make it hard to breathe and may trigger an asthma episode.1,2 If a cat licks your hand or brushes up against your bare leg and you have a severe allergy, the allergens from their dander or saliva may lead to itching, hives or a rash.1,2
Other symptoms of being allergic to cats may include:1,2
Itchy swollen eyes
Stuffy nose
Sneezing
Coughing
Itchy mouth and throat
Postnasal drip and runny nose
Shortness of breath
While there are a number of ways to reduce pet allergens at home, it's also a smart idea to have relief nearby. FLONASE Allergy Relief nasal spray works to combat your worst symptoms of cat allergy, from nasal congestion and sneezing to itchy, watery eyes.
If the idea of parting with your furry friend is unheard of, wash your hands after petting your cat, and reach 24-hour allergy relief with FLONASE.