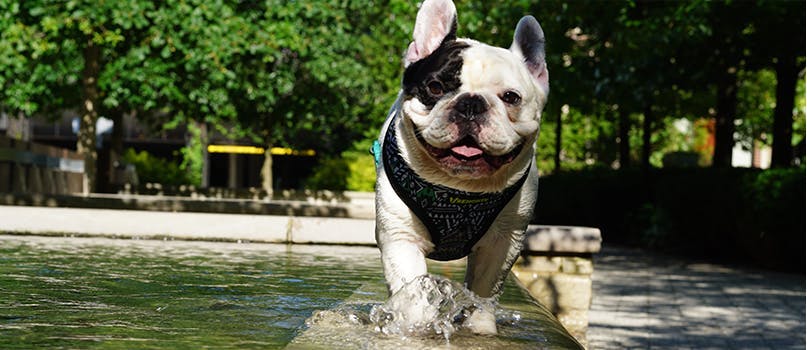 LET THE DOG IN, KEEP THE ALLERGENS OUT.
TIPS FOR DOG OWNERS TO REDUCE FALL ALLERGENS IN THE HOME.
Spending time outdoors with your dog is a great way to enjoy the fall. But not if you suffer from fall allergies. Pollen and mold can find their way inside your home by settling on your clothes. Even Fido can bring outdoor allergens home on his coat. To help keep the sneezing, runny nose, and itchy, watery eyes at bay, here are some ways to keep fall allergens outside, and keep man's best friend from becoming your allergies' worst nightmare.

LET'S GET GROOMING
Dog hair can be a magnet for outdoor allergens. Ask someone who doesn't have allergies to brush your pet regularly—outside, of course, not indoors.1 Follow with a weekly bath—some dogs do enjoy it—to wash away the pollen and mold from their fur.

KEEP ALLERGIES ON A SHORT LEASH
It's tempting to let your dog run off-leash, but they could be running through fields of pollen. Instead, go for long walks on paved paths to lessen contact with allergens.

COVER UP
If you and Fido are headed to a place where allergens are prevalent, consider putting a light sweater on Fido. Toss it in the wash when you return home.

WASH ME, PLEASE
Not only does Fido need a bath, so does his bedding. Wash his bed weekly, and don't forget to toss in his favorite stuffed animals and any throws he likes to sleep on.
Your dog looks forward to fall as much as you do. Using these simple tips can help keep your home allergen-free, so you both can enjoy fall to the fullest.
Source:
1. Pet Allergy Symptoms, Diagnosis, Treatment & Management. (n.d.). Retrieved August 12, 2015, from http://www.aaaai.org/conditions-and-treatments/allergies/pet-allergy