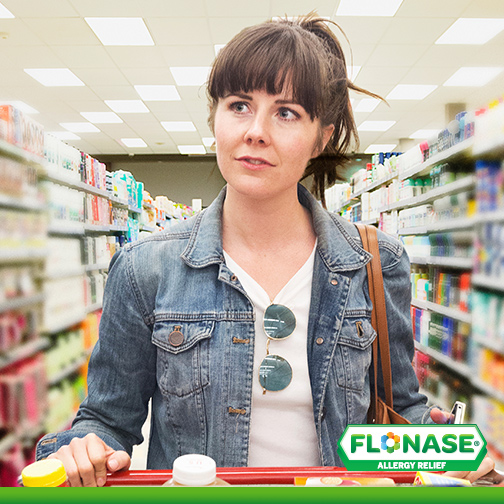 NOT ALL ALLERGY MEDICINES ARE THE SAME
FLONASE® ALLERGY RELIEF VS. ALLEGRA®ALLERGY
Just take a walk down the allergy aisle, and you'll see there are many allergy medicines to choose from. And though many claim to be the best at treating your allergies, finding exactly what your body needs can prove to be a difficult task. When looking for the right allergy medicine, it's important to know what sets them apart. Take a look at how FLONASE® Allergy Relief stands out from other allergy medicines like Allegra®.
THE GO-TO CHOICE FOR ALLERGY RELIEF
For years, Allegra® was one of the most widely used allergy medicine for consumers, but that was until FLONASE® became available over-the-counter.* Since then, FLONASE® has been considered the #1 doctor recommended medicine* for treating symptoms caused by allergies. In fact, it contains the #1 most prescribed allergy medicine**—a claim not every brand can make.
A DIFFERENT FORM
Because Allegra® is a pill, it has to travel through your whole body. FLONASE® works directly at the source, in the nose, where it's needed most.
To see a side by side comparison, take a look at the chart below.
FLONASE® VS. ALLEGRA® COMPARISON
| | | |
| --- | --- | --- |
| BRAND NAME | Single-ingredient Allegra® | FLONASE® Allergy Relief |
| Treats allergies at the source | √ | √ |
| Relieves nasal congestion | X | √ |
| #1 doctor recommended brand for treating allergies* | X | √ |
Please see specific products for full labeling information. Use only as directed.
Allegra® is a trademark of Chattem, Inc.
*Based on IRI dollar share of Allergy category data; 2014-16.
*Among OTC Allergy Medications based on 2016 Physician's Survey
**Based on IMS Health Monthly TRx Allergy Market. 12-month period ending April, 2016
ALL ABOUT ALLERGIES
All the information you need to lead a life that's not limited by allergies. See all articles
ALL ABOUT ALLERGIES
All the information you need to lead a life that's not limited by allergies. See all articles