Be greater than your allergies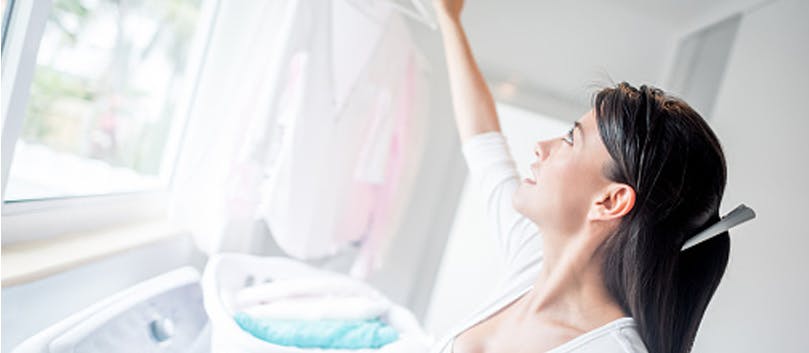 LET'S CLEAN HOUSE.
IT'S TIME FOR A FALL CLEANING.
You already know that a good spring cleaning can help lessen your allergy exposure. But did you know it's just as important to do a fall cleaning? Indoor allergens, including dust mites and mold, can thrive in your home during the humid summer months.1 So let's get cleaning! Here are a few tips on how to reduce allergens in your home this fall.
Vacuum from the top down. Using a vacuum with a HEPA filter, start with your ceiling and get all of the cobwebs that accumulate in corners and around light fixtures and ceiling fans.2 If you have window drapes, carefully give them the once over. Work your way down and get the dust bunnies that hide under furniture. Next, remove the cushions on couches and chairs and vacuum all of their sides. Turn your mattresses and do the same.

Reducing humidity in your home can decrease dust mite and mold growth. Air conditioners help reduce the humidity as well as prevent outdoor allergens such as pollen and mold from entering your home.3 Choose an air conditioner with a high-efficiency media filter with a MERV rating of 11 or 12. Leave the fan on to create a "whole house" air filter.4 Clean mold and condensation from window frames and sills. Use double-paned windows in your home if you live in a cold climate.5

Remove allergens by tossing all washable comforters, mattress covers, pillows, bed skirts, curtains, blankets, throws, and slip covers into the wash.2 While you're waiting for the wash to finish, scrub down the inside of the refrigerator and the utensil drawers, and clean the stove-hood filter.1
Sources :
1. Fall Allergies. (n.d.). Retrieved August 12, 2015, fromhttps://www.edisonnj.org/town_hall/administrative_departments/health_department/docs/Fall_Allergies.PDF
2. Clean Ideas: Fall Cleaning. (n.d.). Retrieved August 12, 2015, fromhttps://www.cleaninginstitute.org/clean_living/clean_ideas_fall_cleaning.aspx
3. Indoor Air Quality and Allergies. (n.d.). Retrieved August 12, 2015, from https://www.aafa.org/display.cfm?id=9&sub=18&cont=233
4. Dust Allergy. (n.d.). Retrieved August 12, 2015, from https://acaai.org/allergies/types/dust-allergy
5. Allergy-proof your home. (n.d.). Retrieved August 12, 2015, from http://www.mayoclinic.org/diseases-conditions/allergies/in-depth/allergy/art-20049365